Applications of Food safe silicone for chocolate mold
Suitable for making chocolate mould, candy mould, biscuit mould, nougat mould, fudge mould, fondant mould, sugar mold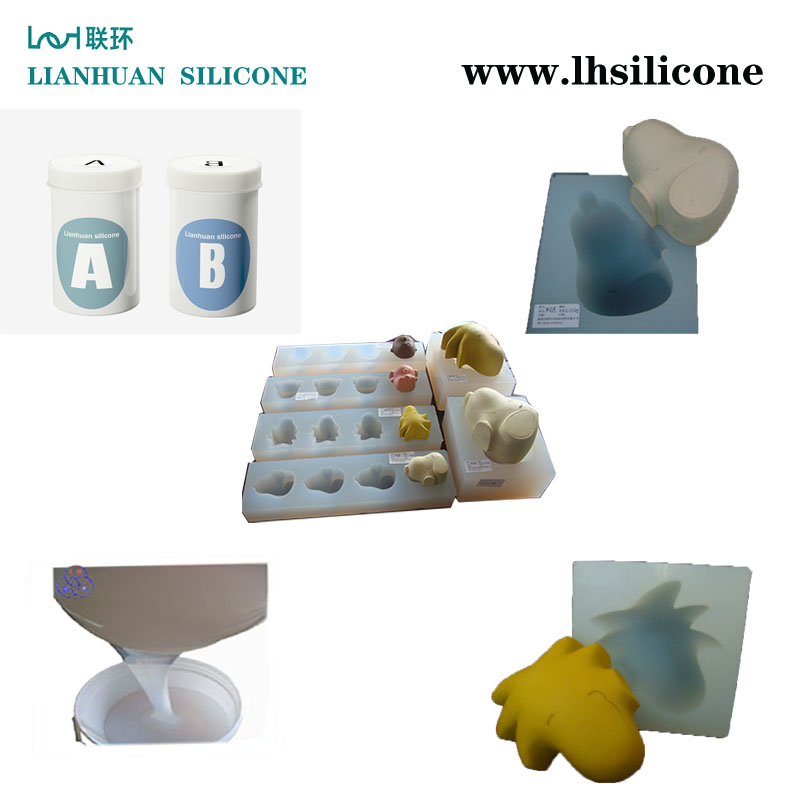 Description of Food safe silicone for chocolate mold
food safe silicone is a kind of two part silicone rubber in addition cure or platinum cure type with mixing ratio of 1:1 . It can cure at room temperature as well as under heat . It's a kind of food grade silicone and mainly used for mold making.
Good electrical performance
Chemical stability with features of waterproof
Corrupt resistance, physiological inert,
Non-toxic, tastelessness,
Aging-resistance, easy pouring
Easy operation, and completely vulcanization.
It can meet
Requirement of the Mechanical strength even under a very low hardness.
Speciifcation of Food safe silicone for chocolate mold
Product

Catalyzed

Viscosity:cps

Base

Color

Specific

Gravity

Mixed

Ratio

Shore A Hard

Tensile

Strength

(Mpa)

Tear Strength (KN/M)

Elongation

%

Shrinkage

%

LHSIL RTV

5,000

Translucent

1.10

1A:1B

10A:1B

10+2

≥2.8

≥20+5

>600

<0.1

LHSIL RTV

6,000

Translucent

1.10

1A:1B 10A:1B

15+2

≥2.1

≥25+5

>5500

<0.1
Food safe silicone for chocolate mold
- Low shrinkage, so the shape of your target product will be exactly what you want(less than 0.1%)
- Reusable for your food mold, which can save your money and time.
- Favorable for molding and demolding. (mixing ratio at 1:1 /10:1)
- Easy to get cured.
- Able to copy every fine detail on the original food model, which will make your food(e.g. chocolate mold, biscuit mold)
Package of Food safe silicone for chocolate mold
40Kgs/pail as a set (Part A 20Kg + Part B 20Kg)
200KG/pail
Food safe silicone for chocolate mold Packaging & Shipping:
Sample packaging: 1kg
Cargo packaging: metal drum and plastic drum: 5kg, 20kg, 25kg and 200kg
Shippping: Transport as non-dangerous Article
Contact Lianhuan:
SHENZHEN LIANHUAN SILICONE CO.,LTD
Email: nancy@lhsilicone.com
Skype: nancyxie2007
WeChat: 0086 13699849627
Ms Nancy Cell/WhatsApp: +86 13699849627
Product Name: Food safe silicone for chocolate
Product Style.: LHSIL FDA
Brand: Lianhuan silicone
Food safe silicone for chocolate mold usage:
Suitable for chocolate mould, candy mould, biscuit mould, nougat mould, fudge mould, fondant mould, sugar mold